Touchsquid Universal TV Remote Control - a Canadian Invention
- Tina Young
The Touchsquid is a new category of home entertainment controller. It not only controls all your devices but allows you to surf the net, check your emails, and make video phone calls. The high resolution 7" easy touch screen makes even small print easy to read.

Too many remotes and gadgets? The Touchsquid replaces a basket of remotes and a tablet computer. With both Wi-Fi and Bluetooth, the squid has connections aplenty.
Inspired by an idea of a user-friendly universal TV remote control to manage the new technology devices now available, Canadian immigrant entrepreneur Grahame Shannon got out of retirement to once again develop a new product.

Best known for his PC-based hull design software AUTOSHIP and marine instrument software AVIASAIL, Mr. Shannon took on the challenge to develop the first TV remote control android tablet. "Colonel Sanders started franchising KFC at age 65, so I don't see why I should stop inventing new things when I am barely 60 years."

Most TV remote controls in the market today are hardware based. The Touchsquid is the first universal TV remote that is both hardware and software based. Named Touchsquid, this device allows the user to manipulate the many devices simply with a touch or a flicker of the thumb.
With a powerful Freescale processor and high resolution (1024 x 600 pixels) capacitive touchscreen, the Touchsquid delivers a fast and fun user experience. A huge database of device codes allows it to control over 12,000 different home entertainment devices.
Most remotes have dozens of tiny, hard to read buttons, often unlit. The Touchsquid's huge 7" screen allows big bright buttons that are easy to see and operate, and can be programmed to only show the buttons needed. The iconic RED EYE is that one button that will turn the many devices on and off. Being software based, control buttons can be resized big or small, making it easily visible in the dark, particularly useful in home theatre settings.
While most universal remotes are notoriously difficult to set up with some even requiring an internet connection, another computer, and downloaded software, the Touchsquid can be set up in minutes without help. The Activity based setup means that the user can switch on all his or her devices with the one RED EYE button. Watch TV, play a Blu-Ray disc or record favorite shows, or best yet - Pop over to the browser and check the TV guide, research a movie on IMDB or even watch YouTube videos right on your Squid.
The Squid can run over 100,000 Android apps, most free, and some of them even useful! When the TV is off, you can still use it to check email, surf the net, or make a video call with the built in 1.3 MP camera and microphone. Play your music collection through the built in stereo speakers or plug in a pair of headphones. The Touchsquid has 4 GB of built in storage and an SD card slot allowing you to add an additional 32 GB (enough for a huge collection of music and videos).
The Squid comes with its own nest, a drop in charging stand it lives in when not in use. Even in the stand it can serve up the time, weather, remind you of appointments or showcase your favorite photo slideshows. The Touchsquid is powered by a long life lithium-ion polymer battery, which unlike some is easily replaceable. The entire device with battery is warranted for a full year including parts and labor.
The Touchsquid will be available in major electronics retailers and online at http://www.touchsquid.com. The MSRP is $399.

Call for Income Tax Clinic Volunteers at the
West Coast Domestic Worker's Association
Every year, the West Coast Domestic Workers Association of Canada (WCDWA)recruits a number of volunteers to help prepare income tax returns at their annual income tax clinic. If you are able to volunteer even just a few hours of your time during Saturdays and Sundays in March and April 2011, they would be extremely grateful. All candidates must have prepared at least one Canadian income tax return (even their own) before signing up as a volunteer.
Tax clinic volunteers will be provided with a one day training from a representative of the Canada Revenue Agency, as well as advice and supervision from one of the volunteer accountants (that can be you) who will be supervising our 2009 clinic. In addition, every volunteer will receive a "Certificate of Acknowledgment" following completion of the income tax clinic.
If you are interested in learning more about Canadian income tax rules, or if you hope to advance a career in the accounting field, you will undoubtedly benefit from volunteering with WCDWA's income tax clinic. You will also have the opportunity to give back to the community, helping live-in caregivers to prepare accurate and timely returns.
To sign up as a volunteer, or for more information about this volunteer opportunity, please contact Linh Tsiu, CGA at 604.786-2566 or email her at [email protected]
The West Coast Domestic Workers' Association (WCDWA) is 20-year-old non-profit association that provides free legal assistance in the form of advocacy, support and counselling to live-in caregivers based in British Columbia. Its free legal advice creates greater access to justice for marginalized workers, while its Public Legal Education initiatives promote self-advocacy by disseminating information about the obligations and rights of caregivers in Canada. WCDWA operates a drop-in clinic six days a week. Its Legal Services Staff provide information and referral, summary advice and full legal representation to caregivers. Issues most commonly reported fall under immigration, family and employment law. WCDWA promotes law reform by advocating for improvements to provincial and federal legislation and policies, particularly regarding the Live-In Caregiver Program. Its community building and life skills training initiatives provide caregivers with vital language, negotiation and legal skills. WCDWA facilitates a self-help and social network to help mitigate the isolation suffered by live-in caregivers.
WCDWA's office is located at
302-119 West Pender Street
Vancouver, BC V6B 1S5

Main Line:
604-669-4482 (within the Lower Mainland)
Toll-free Line:
1-888-669-4482 (outside the Lower Mainland)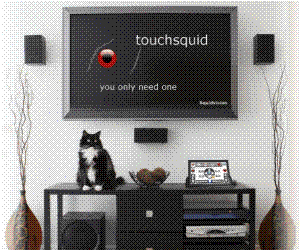 The company's tagline -
You only need one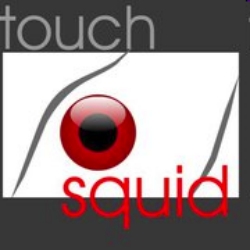 The iconic red eye button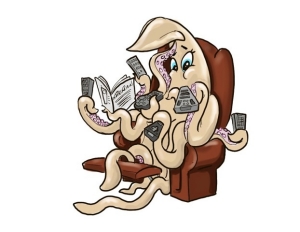 Named lovable Mr. Touchsquid, it
takes 8 tentacles to manipulate the
different devices, but with
Touchsquid doing all the work,
you just need that one RED EYE button.


The music used in this Youtube video is by
Canadian folk band singer
Shanneyganock