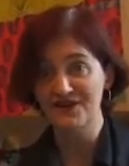 Born in Dublin, Ireland, in October 1969,Emma Donoghue is the youngest of eight children of Frances and Denis Donoghue (the literary critic, Henry James Professor at New York University). She attended Catholic convent schools in Dublin. In 1990 she earned a first-class honours BA in English and French from University College Dublin, moved to England, and in 1997 received her PhD (on the concept of friendship between men and women in eighteenth-century English fiction) from the University of Cambridge. From the age of 23, She earned her living as a writer. After years of commuting between England, Ireland, and Canada, in 1998 Emma Donoghue settled in London, Ontario, where she currently lives with my partner Chris Roulston and son Finn and daughter Una.

Here is a review of Emma Donoghue's most recent and seventh novel titled "ROOM", the story of a 5 year old boy named Jack who is also the narrator who lived in a room measuring eleven by eleven feet. More about Emma Donoghue and her book ROOM.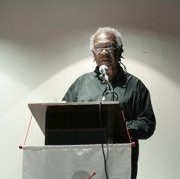 Austin Clarke was born in St. James, Barbados in 1934. He moved to Canada in 1955 where he attended the University of Toronto. He worked as a journalist and broadcaster for CBC, and prior to that, as a reporter for the communities of Timmins and Kirkland in Ontario. In 1998 he was made member of the Order of Canada. Austin Clarke wrote several short stories, non-fiction books and novels. He also taught creative writing at several American universities. His novel Polished Hoe (1992) won the Giller Prize and the Commonwealth Writers Prize. The Question (1990) was nominated for the Governor General's Award for 2000. The Origin of Waves (1997) won the Rogers Writers Trust Fiction Prize. In his books, Clarke wrote about the struggles and the lives of West Indian (Caribbean) immigrants living in Toronto against racism and economic exploitation. As an immigrant, he was able to bring about a unique perspective.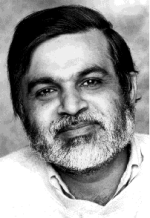 Vassanji was born in Nairobi, Kenya in 1950 and grew up in Tanzania. His family was part of a community of Indians who had emigrated to Africa. When he was 19 Vassanji left the University of Nairobi on a scholarship to the Massachusetts Institute of Technology. He studied nuclear physics and earned a Ph.D. in at the University of Pennsylvania. From there he immigrated to Canada, working at the Chalk River atomic power station. In 1980 Vassanji moved to Toronto and began writing his first novel, The Gunny Sack, (1989) which won the Commonwealth Writers Prize. After the publication of The Gunny Sack Vassanji ended his career in nuclear physics and began his writing career.
In his books, Vassanji wrote about the Indian diaspora, beginning with East Indian immigration to East Africa, and their second migration to Europe, Canada and USA and about how these migrations affected the lives and identities of the immigrants.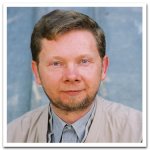 Eckhart Tolle, self-help spiritual teacher and author of million-copy bestseller "A New Earth: Awakening to your Life's Purpose" is Canada's most recent celebrity author. He was born in Germany and immigrated to Vancouver in 1995. Tolle recently received Ophrah Windrey's endorsement for his book "A New Earth", and will be teaching a free interactive online course jointly with Ophrah beginning March 3. Tolle currently lives in Saltspring Island with his partner Kim Eng.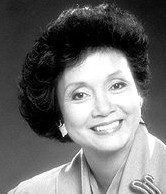 Madame Clarkson was born in Hongkong and came to Canada as a refugee with her family, during the war in 1942. She obtained an Honours B.A. and an M.A. in English Literature from the University of Toronto, did post-graduate work at the Sorbonne in France and became fluently bilingual. A leading figure in Canada's cultural life, Madame Clarkson had a rich and distinguished career in broadcasting, journalism, the arts and the public service. She was appointed an Officer of the Order of Canada in 1992, and upon her appointment as the 26th Governor General of Canada in 1999, she became Chancellor and Principal Companion of the Order of Canada. Her last novel "Heart Matters" was published in 2006 is a memoir of her life, and her tenure as governor general of Canada. The book tells of behind-the-scenes political intrigues resulting from her attempts to inject prestige and glamour to the position as gov-general. (photo on left by Fred Phipps, courtesy, CBC-TV)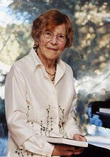 Martha Blum, of Jewish background, and Holocaust survivor was born in Czernowitz, Austria (now Chernivtsi, Ukraine) in 1913. She studied Pharmacy in university, and there she met her husband, Richard Blum, a mathematician, also from Czernowitz. Because of her occupation as a pharmacist, the Blums were lucky to escape the fate of concentration camps, and were sent instead, to work as slaves in work camps. She immigrated to Canada in 1951 and settled in Saskatoon. There, she found a part time job at a pharmacy, and taught at the university's college of Pharmacy. In 1999, Martha Blum published her first novel "The Walnut Tree" at the age of 86, followed by her second book "The Children of Paper" (2002) and a third book "The Apothecary" (2006). She received an honorary doctorate degree from the University of Saskatchewan in 2006. In 1998, she received the Universal Declaration of Human Rights Award from Human Rights Canada for her contributions to the development of cultural life in Canada. She passed away on Dec. 12, 2007 at the age of 94.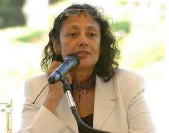 Bharati Mukherjee was born (1940) in Calcutta to wealthy parents. She received her B.A. in Calcutta and went to the University of Iowa to study creative writing. There she met and married Canadian Clark Blaise (1963). She moved to Canada in 1972, became a citizen, and lived in Toronto and Montreal for about a decade before moving to the USA. Her first book "The Tigers Daughter" was published in 1972. Here she talked about an Indian woman who returned to India after many years of living in the West, and discovered how she has changed and now looked at her home country very differently. Her short story collection "Darkness" published 1985 explores Canadian prejudices and intolerances against South Asians. She moved to the USA in 1985 where she found better acceptance. "While changing citizenship is easy, swapping culture is not," said Mukherjee. "I want to write about others, who for economic, social, political, or psychological reasons have had to uproot themselves from a life that was predictable to one where you make up your own rules. (Quote is from the book Notable Asian American Writers by Helen Zia and Susan Gall)