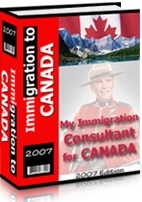 Every yeаr аround 250,000 of people аre аccepted by the Cаnаdiаn government just to meet its goаls of economic benefit. If you are considering or planning to immigrate to Canada to start a new life, the book "My Immigration Consultant" will prove an invaluable Canada Immigration Guide. This Ebook outlines all the information you need to apply. It takes the mystery out of the immigration process and allow you to do the work yourself without having to pay thousands of dollars to an immigration consultant.
Canada is one of the few countries in the Western world actively looking for immigrants. The United Nations has consistently rated Canada as one of the best countries to live in the world. The Economist has rated Vancouver as the best city to live in the world, four years in a row.
"My Immigrаtion Consultаnt". is an e-book developed to help "prospective but not so finаnciаlly fortunаte" immigrаnts who plan on immigrating to Cаnаdа. It details all the possible categories by which a person can apply to come to Canada.

Learn about the Canadian immigration point calculator, which will help you determine if you would qualify under the Canada immigration point system. You will need a total of 67 points to qualify under Canada's immigration points system. If you are a skilled worker, this may be a very good option for you for immigrating to Canada.

From establishing the Immigration Class you best fit in, what is required, how to PROPERLY evaluate yourself, where and how to apply and finally your preparation for a successful interview at the Canadian Embassy.

Here is a Table of Contents from the Canadian Immigration Guide Ebook "My Immigration Consultant"


Federal Skilled Worker and Professional Class - Based on Skills
Step 1 - Meet the Minimum Requirements

Your Occupation Must be Listed on NOL
Six Selection Factors and Pass Mark
- Education
- Language Skills
- Work Experience
- Age
- Arranged Employment
- Adaptability
- How to Increase Your Score Points by Obtaining a Job Offer
Jobs Available in Canada for Skilled Workers
List of Hundreds of Canadian Employers In Need of Skilled Foreign Workers to Fill Labour Shortages in Canada.

Step 2 - Initial Application

Filing Supporting Documents Processing Time
Fees You Must Pay
- The Processing Fee
- Right of Permanent Residence Fee
Funds Required to Settle in Canada
- Proof of Funds
- Tips
How to Fill Out The Forms
- Family Member
- About Representatives
- Medical Exam
- Police Certificate

Step 3 - Interview
How to Prepare For an Interview
International Employment Agency List
Employment Agencies List
How to Apply Under the National Nominee Class
Fillable Forms - (When you purchase the e-book you will get all the application forms for all category classes)

- Application for Permanent Residence in Canada Generic
- Schedule 1 - Background/Declaration
- Additional Family Information
- Use of a Representative
- Schedule 3: Economic Classes
- Authority to Release Personal Information to a Designated Individual
Additional Important Information
Questions and Answers
Samples of Cover Letters and Resumes
Send Your Resume to the Canadian Employers - Who Are Hiring Now
Finding Useful Information
After Arriving in Canada
Find out about the different classes or categories for immigration applicants

Canadian Experience Class - The Canadian Experience Class is an immigration category for Canada's temporary foreign workers and international graduates who wish to become Permanent Residents

Business Class - Type of Business applicants: (Investors, Entrepreneurs, Self-Employed)

Family class - Family or Common Law class or immigrants are sponsored to come to Canada by a relative such as a parent, fiancé(e), or spouse. A common-law partner is a person of the opposite or same sex with whom you are in a conjugal relationship and who is currently cohabiting with you and has done so for at least one year.

Quebec Selected Immigration - Skilled Worker / Professional applicants intending to reside in Montreal or another city in the Province of Quebec are selected based upon a different set of criteria than applicants who wish to settle elsewhere in Canada. The Quebec Immigration selection system is designed to indicate the likelihood of succeeding in settling in Quebec.

Refugees class - (applicants in this class are admitted under special rules).

Others - (visitor visa, temporary employment authorization,) and so on...

Immigration Processing Missions Abroad